There are a few lists of Music festivals that are being organised each year in California. Northern California's greatest country music live performance gets back to Santa Rosa from June 17 – 19, 2022! In years past the Country Summer pulled in excess of 30,000 fans addressing five nations.
Let's check out the top 8 Music festivals in California for 2022. 
1. BottleRock Napa Valley
Bottle Rock Napa Valley Festival is going to arrange the various music artists like Stevie Nicks, Foo Fighters, Guns N' Roses, Megan Thee Stallion, Miley Cyrus, G-Eazy, and Jack Harlow.
It is very well known and the first music festival which has a massive audience. 
Last year it was held on September 3-5, 2021 in the Nepa Valley. The festival includes master chefs from kitchen domain as well as special guests. It is more than just music. Also they have provisions of their own spa. 
2. Camp Flog Gnaw Carnival
They are going to arrange the various music artists like Tyler, The Creator, Solange, BROCKHAMPTON, Earl Sweatshirt, Daniel Caesar, FKA Twigs, H.E.R.
Camp Flog Gnaw Carnival is a great festival because of various good music artists who are lined up for the event. Not just that there are various other considerations present to make it a great music festival for 2022. The speciality of this music event is that it has been supported and curated by Tyler, the Creator along with his artist friends. It is just like all friends hanging out for a music event together.
Note the date and place as it is initiating on TBA November 2022 in Los Angeles
3. HARD Summer Music Festival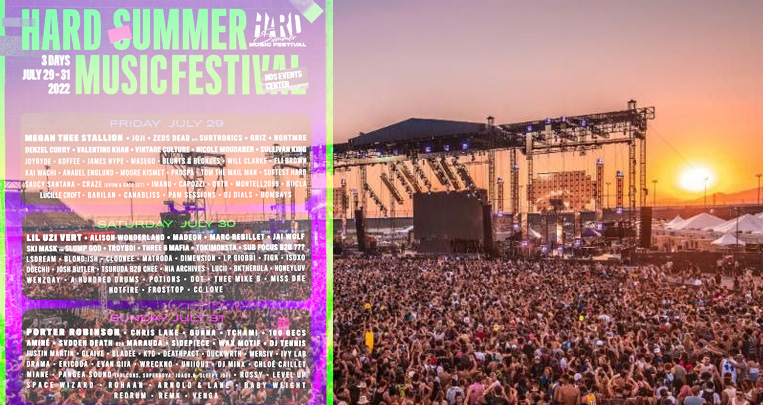 Hard Summer music festival is going to arrange the various music artists like Future, Dillon Francis, DJ Snake B2B Malaa, REZZ, KAYTRANADA, Maya Jane Coles. This festival will be happening on TBA July 2022 in San Bernardino. To find out te music festival niche for this year is very difficult. But HARD has an idea to get a inspiration from between EDM and the underground music. Thus he has a great option to showcase the music theme for this year in front of the huge audience. This festival initiated as an electronic music festival. But HARD made it possible to scale it wide with its creative thinking in music spectrum. Since from last year their is unbelievable reponse to the music festival.
4. Lightning in a Bottle
The festival line up includes Glass Animals, Kaytranada, Black Coffee, Four Tet, Little Simz, Chet Faker, CloZee.  This festival will be happening on May 25-30 2022, in Bradley.
This festival organisers started it as an birthday celebration party for its four years completion. It has a good story to begin with as an introduction. It was inaugurate in the year 2004 in front of public. Later they found a geat place to situate and that is Bradley. Bradley near the seashore of Lake San Antonio. Lighting in a Bottle always remained independent and never get selled to any other festive organiser like Live Nation and AEG. This guarantees the experience is special and the setup is dependably strong and not finished up with label fodder. 
5. Outside Lands Music and Arts festival
It is arranged on August 5-7 2022 in San Francisco. San Fran's headliner, Outside Lands yearly invites 200,000 music fans. Heading into its fourteenth version in 2022, the celebration becomes Golden Gate park into a melodic wonderland. Which isolates Outside Lands from the opposition is its capacity to assemble a setup that adjusts basic and business achievement. However, you won't track down too many pop stars here. Rather about specialists have utilized their basic accomplishment to hybrid into the business world.
6. Coachella Valley Music and Arts Festival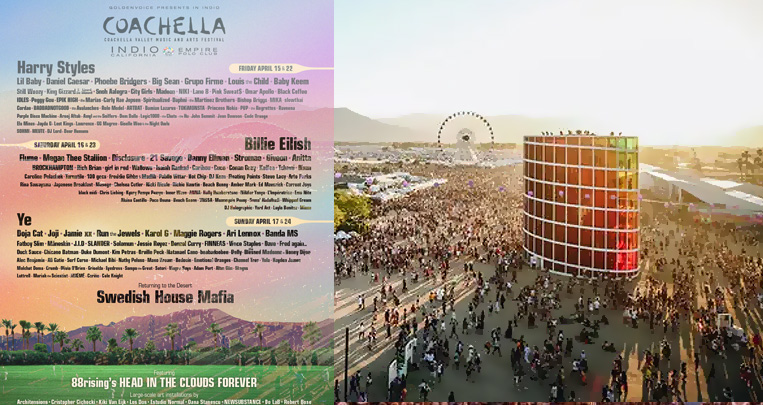 Known about it? Regardless of whether you like it, Coachella is the most compelling live concert on the planet. The informal authority start to the celebration season consistently, the celebration has likewise turned into a design establishment, starting precedents for what you'll see at celebrations all through the late spring. Furthermore, however much you should ridicule individuals who join in, Coachella reliably assembles truly outstanding and most fluctuated setups you'll find anyplace. It includes Kanye West, Billie Eilish, Harry Styles, Swedish House Mafia 
Is Coachella really famous?
Coachella grandstands famous and laid out melodic specialists as well as arising music artists and rejoined gatherings. It is one of the biggest, generally well known, and most beneficial live concerts in the United States and the world. Each Coachella arranged from 2013 to 2015 set new standards for celebration participation and gross incomes.
7. Rolling Cloud California
Rolling Loud is the head hip jump celebration on the planet. Its lead version in Miami was established in 2015, and from that point forward Rolling Loud has turned into a worldwide brand, with stations across The States and, surprisingly, one in Portugal. Assuming that you at any point feel withdrawn from the contemporary hip bounce scene, simply look into Rolling Loud's most recent arrangement banner and you'll be promptly raised to date with the condition of the scene's dominance hierarchy. It is organised on TBA December 2022 in San Bernardino
2021 lineup includes Kid Cudi, J.Cole, Future,  Wiz Khalifa, Playboi Carti, Kodak Black, Gunna
8. Stagecoach
Put on by similar individuals behind Coachella and set in a similar spot, Stagecoach is the greatest festival with live performance on the planet. Inviting the greatest names from country. However society, twang, and roots rock too, the celebration has developed consistently since its origin in 2007. With 80,000 individuals going to in 2019, Stagecoach's merging of an exemplary stone weekender celebration design with country sounds obviously evokes an emotional response from music fans. This 2022 includes Thomas Rhett, Carrie Underwood, Luke Combs, Maren Morris, Brothers Osborne, The Black Crowes, Cody Johnson.